Physiotherapist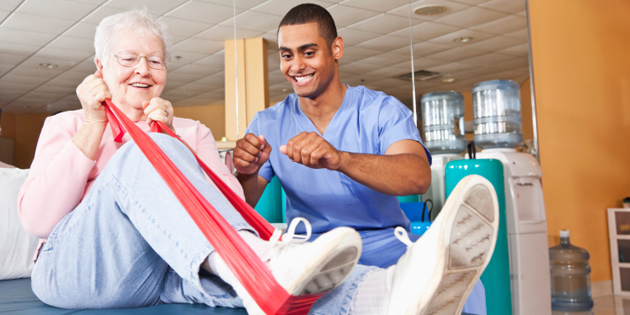 University

Min. 27,46 $ / h
Max. 50,39 $ / h
Description and Responsibilities
Physiotherapists work with people suffering from a physical disability of an orthopedic, rheumatic, neurological or cardiopulmonary nature to restore their optimal physical functioning.
To achieve this, physiotherapists assess the nature, causes and extent of a patient's functional problems through tests (joint mobility, strength, endurance and muscle tone, posture, gait, lung capacity, perception, sensation, etc.). They establish rehabilitation objectives, a treatment plan, and make recommendations. Physiotherapists ensure the application of treatments by using, as appropriate, strengthening and stretching exercises, manual therapy techniques (massages, tractions, manipulations) and various therapeutic agents (heat, cold, electricity , water, ultrasound, etc.). They also follow-up to evaluate progress and adjust treatment where necessary.
Physiotherapists give patients all the physical and psychological support they need in order to gradually restore their physical functions and autonomy as best possible.
To be a practicing physiotherapist, you must be a member of the Ordre professionnel de la physiothérapie du Québec.
Education and Training Requirements
To practice, a physiotherapist must hold a graduate degree. In Québec, 5 universities offer the diploma and some of them also offer a continuum of professional education at undergraduate and graduate levels:
Scholarships for certain regional jobs in the field of health and social services are offered to students under the scholarship program of the ministère de la Santé et des Services sociaux. For more information, see Bourses pour favoriser le recrutement de certains professionnels et techniciens de la santé et des services sociaux en région éloignée page (in French only).
Required Interests, Skills and Personality Type
Must be a good communicator and listener
Must be responsible and organized
Must enjoy physical work and handling (medical) instruments
Must know how to observe and analyze situations and people
Must love contact with the public
Personality Type (RIASEC)
SIR
S - Prefers to be in contact with people and to help them
I - Prefers studying, understanding and solving problems
R - Prefers practical work and handling tools
Work Environment
Physiotherapists in the health and social services network mainly work in:
Useful Links