Hospital Porter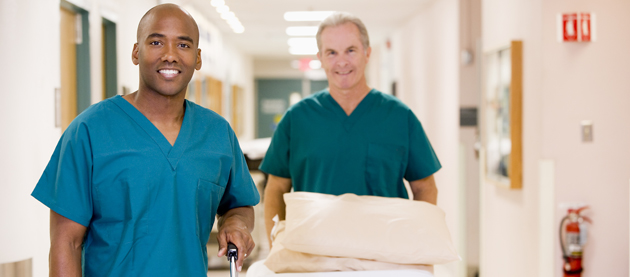 Secondary

Min. 17,13 $ / h
Max. 17,96 $ / h
Description and Responsibilities
Hospital porters help transport patients, and keep an eye on them during examinations, treatments and operations. Porters move and accompany patients to various areas of the hospital in the best possible conditions. In addition to keeping their equipment well-maintained, hospital porters must know first aid and handling techniques. When transporting patients from one place to another, hospital porters must ensure the transfer of patients' medical files and personal belongings. They may also be required to transport samples (blood, urine, etc.) between departments and analysis laboratories as well as to clean and sanitize.
Source: Comité patronal de négociation du secteur de la santé et des services sociaux

(in French only)
Education and Training Requirements
Hospital porters must have a high school diploma and successfully complete a Moving Patients Safety Principles (MPSP) course.
Required Interests, Skills and Personality Type
Must enjoy physical work and handling (medical) instruments
Must enjoy working in a team with colleagues and other professionals
Must know how to observe and analyze situations and people
Must love contact with the public
Must manage stress well
Personality Type (RIASEC)
SIR
S - Prefers to be in contact with people and to help them
I - Prefers studying, understanding and solving problems
R - Prefers practical work and handling tools
Work Environment
Hospital porters mainly work in healthcare facilities, university hospital centres and academic institutions (in French only).