Home >
Careers >
Electroencephalography Technician (EEG Technician)
Electroencephalography Technician (EEG Technician)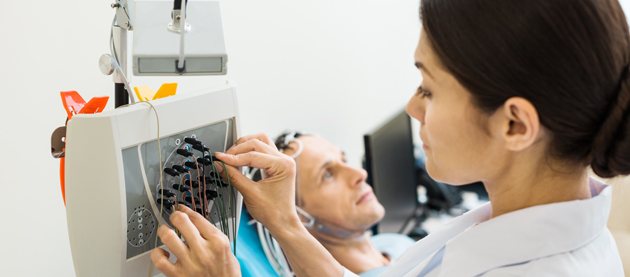 CEGEP

Min. 21,44 $ / h
Max. 29,32 $ / h
Description and Responsibilities
EEG technicians operate various devices used in an electroencephalographic laboratory. They record electrical activities in the brain, skull and central nervous system of patients to assist with diagnosis, as well as monitoring and treatment of certain diseases. EEG technicians can help with teaching and clinical training and ensure the maintenance of various devices.
Source: Comité patronal de négociation du secteur de la santé et des services sociaux

(in French only)
Education and Training Requirements
EEG technicians must have a college diploma in medical electrophysiology

or a certificate in electroencephalographic techniques issued by the Canadian Association of Medical Radiation Technologists

.
Required Interests, Skills and Personality Type
Must be a good communicator and listener
Must be responsible and organized
Must enjoy physical work and handling (medical) instruments
Must have excellent initiative and be able to work autonomously
Must have good summarizing and analytical skills
Must love contact with the public
Personality Type (RIASEC)
IRS
I - Prefers studying, understanding and solving problems
R - Prefers practical work and handling tools
S - Prefers to be in contact with people and to help them
Work Environment
EEG technicians mainly work in healthcare facilities (in French only).
Useful Links